Sharnjit S. Gill -(Founder of VERICO Superior Mortgage)
Mr.Sharnjit S. Gill has spent his entire life in the Banking industry – joined UCO BANK (United Commercial Bank) on 2nd February, 1969. Through out his service in United commercial Bank , he was transferred to different locations- one of them being London, England where he served in London and as a Branch Manager in Leicester , UK for 4 years. His dedication and hard work got him overseas transfer to UK as a reward for helping people and his community.
In 1995, he resigned from UCO Bank and decided to move to Canada with his family. Upon arrival, he joined Bank of Montreal (BMO) in Dec, 1996 as a Financial Services Manager. Within a short time , he created a strong value for himself in the community. In Dec, 2000, he had resigned from BMO and started working as an Independent Mortgage Broker under his own Mortgage company – VERICO Superior Mortgage Inc. Since the inception of VERICO Superior Mortgage Inc he was devoted himself to Mortgage field.
During his 32 years in the Banking industry, he gained extensive knowledge and experience in leading and people management. Since the inception of Superior Mortgage Force he was devoted himself to developing the company.

ACHIEVEMENTS:-
Ranked one of the Top CMP for the last 9 Years
Ranked CMP Top 37th in 2017. (Canadian Mortgage Professional)
Ranked CMP Top 23rd in 2011( Canadian Mortgage Professional)
Ranked CMP Top 24th in 2010.
Ranked CMP top 29th in 2009.
Mr.Gill received Top PRODUCING MORTGAGE BRPKER AWARD – 2002 & 2003 from Envision Credit Union.
He was also a member of the 100% club awards with Bank of Montreal.
His 3 Branches of UCO BANK were declared as model branches for providing exceptional customer service business development. For his excellent customer service and performance he was selected to overseas posting to London, UK.
Sharnjit Gill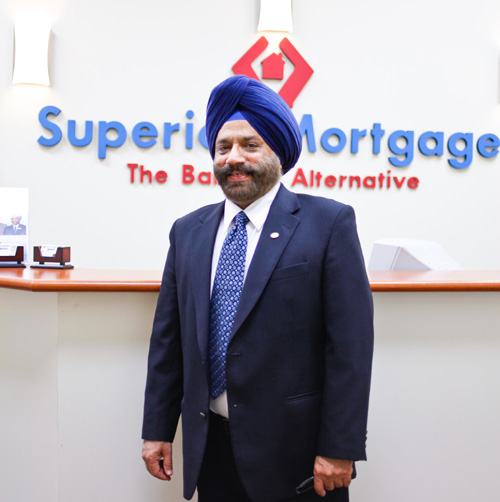 Payal Business Centre,Unit 244 8138 -128 Street,Surrey, BC V3W 1R1
Locate Us